C.U.T. Bootcamp

Looking for a career boost? Search no further than the Culinary Ultimate Training Bootcamp hosted in our fully licensed commercial kitchen. Our exciting C.U.T. Bootcamp provides handson work experience, 30-hours of specialized instructor-led training, guest-speaking events from leaders in the industry, and experiential field trips over 3 months; resulting in a total of 48- hours of instructor led and in-field training.


C.U.T. Curriculum
Eventful Memories, LLC will deliver training, consistent with current technology, adaptive to industry needs, and instructional best practices. C.U.T. Bootcamp will involve both theory and actual on the job training via hands-on-training in the culinary arts lab and work experience through Eventful Memories catering events during the training period.
Coupled with relevant work based experiences, our curriculum will enrich, enhance, and reinforce what students learn in the classroom and provide them with the opportunity to develop and practice skills critical to their future success.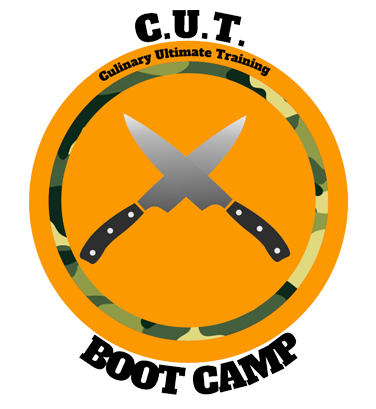 Students will also be afforded the opportunity to learn and practice important skills related to leadership and responsibility. These skill sets serve as a foundation to professional, trained, and educated employees.
Students will receive 30 hours of instructor led culinary arts training in the following areas:
Overview of restaurant and food service industry
Overview of restaurant and food service industry
Culinary Fundamentals
Garde Manager: Hors D'Oeuvres & Charcuterie
Plating and Presentation
Soups and Sauces
Introduction to Fish, Meat, and Poultry
Dry Heat Cooking Methods
Moist Heat Cooking Methods
Breakfast, Brunch, and Lunch
Contemporary Desserts
Pastry and Baking Essentials
Food and Wine Pairing
French Regional Cooking/Italian Regional Cooking
ServSafe® & American Culinary Federation® certification
Program Objectives
By the end of the C.U.T. Bootcamp, participants will:
receive ServSafe® certification ;
receive an American Culinary Federation® certification
receive Georgia Work Ready® Certification
recognize and apply appropriate security and safety measures to create a safe work environment
demonstrate understanding of basic food service operations
demonstrate competency in professional food preparation and service
demonstrate knowledge and skills learned in a final exam/graduation luncheon and presentation
demonstrate leadership, job readiness skills, and cultural competency
develop individual personal success tools
receive a certificate upon completion
participate in a white coat "graduation" ceremony
Program Instructors
Roshawn Walker – Trainer
Chef Roshawn Walker is founder and CEO of Eventful Memories Catering, LLC, a full-service catering and special events company. Roshawn launched a lucrative fifteen year career in Corporate America serving as a CFO of a national nonprofit organization. But the sweet aroma of entrepreneurship drew her back to a cherished pastime, and Eventful Memories was born in 1998.
Her wealth of catering and special event experience which spans 20 years has "created the atmosphere for lasting memories", from small intimate family functions to large all-inclusive catering events nationwide.
As an established industry leader, Roshawn currently serves as Chairperson for the Advisory Committee for Atlanta Technical College, where she received her Culinary Arts training. Chef Walker brings a wealth of knowledge and subject matter expertise to enhance the curriculum and support culinary staff training and development.
A past recipient of Clayton County Chamber of Commerce Small Business of the Year award, Chef Walker believes in giving back to the community in which she lives and works. From providing summer employment to high school students who expressed an interest in the culinary arts industry, to working closely with nonprofits such as Hearts to Nourish Hope to feed homeless women and children earned her recognition as Business Partner of the Year.
Felicia A. Hill – Program Manager
Felicia is a results-focused professional with a thorough understanding of workforce development initiatives, program operations and project management. With a combined 20 years' of demonstrated experience in corporate America, and with mission-driven organizations, Felicia exhibits flexibility, strong communications skills and the ability to interact fluidly with diverse audiences to form partnerships and collaborations.
Prior to her current work with Eventful Memories, Felicia served as program manager with Transportation Communications Union (TCU) a job training program focused on training atpromise youth ages 16-24 for careers in the transportation industry, i.e. Air, Rail, Passenger Rail and Transit. Additional work experience includes Social Development Director for the Atlanta Job Corps program serving at-promise youth ages 16-24. Prior, Felicia created and developed a workforce development training program for a local nonprofit which was accredited by the Commission on Accreditation of Rehabilitation Facilities CARF®. Corporate experience includes eight years as Community Affair Manager at General Electric.
Felicia's commitment to excellence is rooted in a strong passion for helping people to become employed and live their best lives.
To learn more about The Eventful Memories C.U.T. Bootcamp training program use the "contact us" form on the left side of this page and sign up to receive more information on how C.U.T. Bootcamp can help give your career a boost and sharpen your culinary skills!